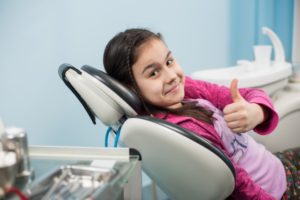 As a responsible parent, you do everything you can to provide the best care for your child, including work hard at your job. Fortunately, you get dental insurance benefits through your employer, but are you really taking full advantage of it with your pediatric dentist? How can you maximize your child's benefits?
As the end of the year draws closer, there is just a limited time left when you can use your 2022 children's dental insurance coverage, so find out about using your benefits by continuing to read this post!
Prevent, Prevent, Prevent
When it comes to dental health, the secret to maximizing your child's insurance benefits is to stop problems before they even begin. Although they differ in the specific benefits, all dental insurance plans focus the majority of coverage on preventive services. This means that you likely won't have to pay anything out-of-pocket for a professional cleaning and checkup every six months for your kid. During this visit, plaque that has hardened on their teeth is cleared away, helping your most precious smile avoid cavities in the future.
Catch and Treat Problems Early
As a natural part of growing up, mistakes are bound to happen. Your child may miss a spot in their oral hygiene, allowing bacteria to create a cavity. Dental insurance provides coverage for these kinds of situations; however, the sooner tooth decay is identified and treated, the less it is likely to cost. While minor restorative services like fillings are about 70 to 80 percent covered by your dental insurance, chances are that more major work like a dental crown is only about 50 percent covered. In other words, you pay less out-of-pocket for less invasive treatment!
Fortunately, during your child's six-month appointment, the pediatric dentist inspects teeth for any signs of damage or decay and can resolve the problem as early as possible, ensuring savings on your child's oral healthcare costs.
Use or Lose Insurance Benefits
Unlike some vacation days at work that could roll over into the new year, dental insurance benefits must be used within the calendar year, meaning you have until December 31 to take advantage of your child's coverage. If you don't visit your pediatric dentist twice this year, you forfeit these benefits; basically, you've spent money for services you haven't used. It's like paying to go to a movie or a theme park and then not going!
Ultimately, the best way to keep your child's smile healthy and strong is to take advantage of the insurance benefits you're already paying for. Don't put off taking your kid to the dentist—make sure you get your second visit in before the year ends and you lose your hard-earned benefits!
About the Author
Dr. J. Patrick Bowman, or Dr. Patrick, is proud to accept dental insurance and work with young patients and their parents with affording high-quality dental care. Among others, he is in-network with United Healthcare, MetLife, and Guardian. If you have questions regarding insurance or benefits, you may call Dr. Patrick's team at Wash Park Pediatric Dentistry at 720-647-6310 or visit our Contact Us page, and we'll be happy to help however we can.