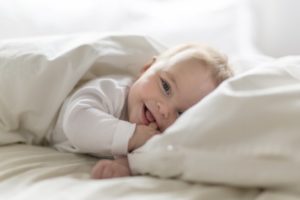 As a brand-new parent, watching your baby grow is exciting as well as nerve-racking. During the first year, this stage brings about a lot of change in a short period of time, especially when it comes to their oral health. For months, you can't get enough of their gummy smile, but suddenly one or two small pearly whites quickly appear above the gum line, causing you to wonder what to do next. If you want to set your child up for a lifetime of good oral habits, let a pediatric dentist explain why these baby teeth are essential and why it's best to bring in your bundle of joy before they hit the one-year milestone.
Baby Teeth: Why They're Important
You may be thinking, "Why are baby teeth so important? They're just going to fall out anyway, right?" While the short answer to this is yes, what you may not realize is that healthy primary teeth set the stage for successful permanent ones later on.
According to the American Academy of Pediatric Dentistry (AAPD), baby teeth should be lost naturally and remain in good health, as they are designed to:
Help your child eat without problems
Prevent speech development issues
Serve as space savers for future adult teeth
Give your child a reason to be happy with their overall appearance
As a result, these baby teeth need to be carefully maintained so that your child can enjoy a stronger, healthier smile in the future.
Why See a Dentist by the Time They Turn One?
Even if you think your child is too young to see a pediatric dentist, you'll be pleased to know that as a first-time parent, it's never too early to start your child on the path to good oral habits. The recommended timeframe to schedule the first dentist's appointment is typically soon after the first tooth erupts or when your little one turns a year old.
One reason for this early visit is so that your child can become accustomed to the sights and sounds associated with the dentist's office. It's also beneficial because the dentist and dental team can personally become familiar with your baby, and vice versa. This initial appointment will start a lifelong commitment to preventive care that will enable you and your child's pediatric dentist to work together to minimize tooth decay and cavities.
What Happens at the First Dental Visit?
During this appointment, you can expect them to use a gentle touch when examining your child's teeth and gums, making sure everything is developing properly. It is unlikely that a full examination will occur, especially if they only have one or two teeth at the time. But it is important to note that tooth decay is possible early on in a child's life, so the dentist will check to make sure there are no signs pointing to cavity formation.
You will also discover this visit is beneficial for its educational purposes, as the dentist will provide you with valuable information regarding how to effectively clean your child's teeth at home, the importance of fluoride, and what changes you can expect to see in their oral and facial development as they grow.
Ultimately, healthy dental habits, like visiting the dentist, need to start early in your child's life. By bringing them to an experienced pediatric dentist when they turn one year old, they can begin learning how to keep their developing smile bright and adorable as they grow!
About the Author
Dr. J. Patrick Bowman earned his dental degree at the University of Kentucky before going on to earn a master's degree in Biomedical Sciences and complete a two-year advanced training program in pediatric dentistry at the University of Toledo Medical Center. As a board-certified pediatric dentist, he has advanced training in growth and development, patient behavioral management, general anesthesia, and pediatric medicine. He and the team at Wash Park Pediatric Dentistry recommend you bring your baby in before or near their first birthday. Our gentle and compassionate approach will have them excited to come back again and again. Contact us at (720) 647-6310 or visit our website to let us take care of your child's dental needs.