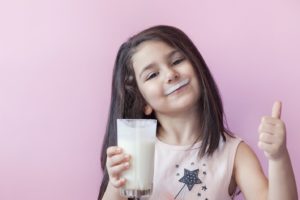 You want your child to enjoy excellent health, which is why you are careful about what sort of foods you feed them. But do you pay just as much attention to what they are drinking? While some beverages are excellent for children, others can take a devastating toll on their oral health. A pediatric dentist in Denver is here to discuss how some popular beverages may be affecting your child's smile.
Water
Water is an excellent beverage choice for anyone. It can rinse away food particles and bacteria that might be clinging to teeth, and staying hydrated encourages saliva production. Don't be afraid to let your child drink fluoridated tap water; fluoride is an essential mineral for helping teeth develop properly and protecting them from cavities. If your child doesn't like to drink water, you might try sweetening it with natural fruit.
Milk
Milk is full of important nutrients. The calcium in it promotes strong teeth and bones, and many types of milk are fortified with vitamin D, which helps the body make the best use of calcium. Additionally, milk is a good source of phosphorous and casein, both of which can play a role in strengthening tooth enamel.
If your child drinks milk, they should stick to unflavored, unsweetened varieties. Too much sweet chocolate or strawberry milk can expose their teeth to an excessive amount of sugar and acid.
Fruit Juice
Many parents reason that fruit juice is good for kids because it contains vitamins. While it's true that many juices are good sources of vitamin C and other nutrients, they are also chock full of sugar, citric acid, and phosphoric acid, especially if the company selling the juice sweetens their product with extra sugar to appeal to children. All of that sugar and acid can quickly lead to cavities. Plus, some types of fruit juice, such as orange juice, are quite acidic as well. If you choose to give juice to your child, you may want to limit it to once a day at a mealtime or snack time. You may want to water it down to cut back on the sugar and acid content. Try to limit juice to 5 ounces or less per day.
Soda
Soda is delicious, but it is also one of the worst things your child's teeth can be exposed to. Regular sodas are full of sugar, and they are loaded with phosphoric acid. Drinks high in phosphoric acid not only can cause cavities, but they also can cause tooth demineralization. Even if you opt for a sugar-free version, the substances used to flavor the soda, such as phosphoric acid, can still harm teeth. Studies have also shown that children who consume sugary and acidic beverages have a higher risk for childhood diabetes. Everyone, including both children and adults, should restrict their soda intake to the extent possible.
Sports Drinks
Sports drinks contain electrolytes, and they may have some vitamins as well — but they are bad for teeth. Some varieties contain as much sugar as regular soda, and their acidity levels is a problem as well. Coconut water might be a good alternative that appeals to your child's taste buds; it has much less sugar than sports drinks, and it contains naturally occurring electrolytes.
How are your child's beverages affecting their teeth? Use the above information to make sure your little one's drinks aren't harming their smile.
About the Author
Dr. J. Patrick Bowman, who is affectionately known as Dr. Patrick, has more than a decade of experience as a dentist for kids in Denver. He received his Doctor of Dental Medicine at the University of Kentucky, and later he completed a residency in pediatric dentistry. He is happy to help families in our area make smart choices about oral health. If you have questions about how you can protect your child's smile, contact our office at 720-647-6310.