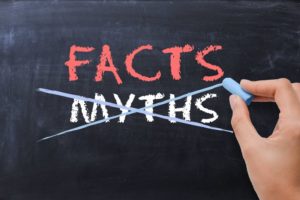 Getting a toothache at any age can be unpleasant to say the least, but a young child with tooth pain (who may not be able to regulate their emotions) makes everyone miserable. When you became a parent, you weren't handed a manual to know what to do, but unfortunately, you may have been given some inaccurate myths about children's dental health. If you want the facts, keep reading!
Myth #1: Baby Teeth Don't Really Matter
Primary or baby teeth generally start erupting around 4 to 6 months after birth, and they tend to begin falling out around 6 years old to about 12 years old. As a result, it can be easy to dismiss these teeth as temporary or not worth the time and effort to protect from decay.
On the contrary, baby teeth not only give your child the ability to chew their food but also help align the permanent teeth during development underneath the gums. When a primary tooth is lost before it comes out naturally, the adult teeth can erupt more crooked. Needless to say, you should do everything you can to keep their baby teeth, as well as their permanent ones, in good condition.
Myth #2: Your Child Can Wait to Brush with Fluoride Toothpaste Until They're Older
Early on, while your little one is still a young toddler, the concept of not swallowing everything that goes into their mouth can be difficult to master. When they get to a point where they can spit out, they are ready to use fluoride toothpaste.
A naturally occurring mineral, fluoride strengthens and protects tooth enamel against wear and acids, meaning that a fluoride toothpaste can prevent cavities from harming your child's smile. Needless to say, you'll want that protection as early on as you can manage!
Myth #3: Candy Is the Only Cause of Cavities
Although sugar does increase acidity in the mouth, candy is not the only food you need to be worried about. Soda, bread, crackers, cookies, and even "healthy" foods like dried fruit or juice all contain high amounts of starch or sugar that can increase the chances of cavities. Be aware of the food you give your child, try to limit how much sugar they have, and teach them the importance of a truly healthy diet.
Myth #4: Your Child Can Brush on Their Own
Early on, many kids want independence, even if they aren't proficient in certain skills yet. Brushing their teeth is one area where your participation, supervision, and instruction are necessary for quite a while. If they will let you, brush your child's teeth for them to be as thorough as possible.
Then, you can tag-team brushing by allowing your kid to try it on their own first followed by a quick brush from you. Otherwise, they can easily miss areas where plaque buildup can lead to cavities, particularly in the deep grooves of molars and hard-to-reach places. Once you feel your child has developed good brushing skills, you can watch and feel more confident that they are properly keeping their teeth clean and healthy on their own.
Instead of believing these myths, talk to your pediatric dentist and understand the truth about dental health for kids. This information can raise the chances of your little one getting through childhood without painful cavities and set them up for a successful, strong smile.
About the Author
In addition to being a board-certified pediatric dentist, Dr. J. Patrick Bowman, or Dr. Patrick, is also a caring father. As a result, he knows the ups and downs of taking care of growing smiles and offers professional guidance to his patients' parents. During your child's dental checkups and cleanings, he will gladly talk about practical ways to guard their teeth from decay and proper brushing and flossing techniques. To schedule an appointment with Dr. Patrick, you may contact his practice, Wash Park Pediatric Dentistry, online or by calling 720-647-6310.