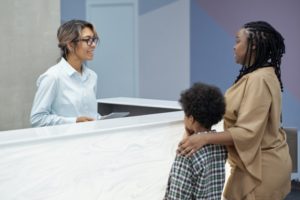 To someone unfamiliar with the terminology, understanding dental insurance can seem daunting. There always seems to be fine print or lofty jargon that can be tricky to keep straight. For instance, do you know what a deductible is? This basic term is important to comprehend because it directly impacts the amount you will owe for your child's dental care. In this post, you'll learn a little bit more about a deductible, see its application in a "real-life" scenario, and understand the importance of a great dental team on your side.
What Is a Deductible?
The term deductible is used in world of insurance to refer to the money you must pay for covered services before the insurance company chips in its portion. Keep in mind that your deductible is an added expense on top of your monthly premium, but once you meet your deductible for the calendar year, you are set until coverage renews in January.
How Your Deductible Affects How Much You Pay
Often working with specific numbers and an example facilitates understanding. If your child needs dental work costing a total of $500, you pay your deductible (say $50) and then your insurance pays roughly 80 percent of the remaining fee, which is $450. This amount would be about $360, leaving about 20% or $90 left over. In total, you'll pay $140 out-of-pocket, but your insurance will contribute $360, saving you significant money.
In case of a later dental expense in the same calendar year, you may only have to pay the 20% because you have already met your deductible.
Before you pay, you may certainly ask your dental to explain the amount they are charging you. They give you a detailed breakdown of the fees, factor in your deductible as well as coverage from your insurance, and help you understand the out-of-pocket amount due in your specific case.
Why You Need to Work with an In-Network, Knowledgeable Team
Hopefully, the explanations so far help clarify how deductibles work, but insurance can be complicated and confusing, even for those who work in the dental field! Choosing a pediatric practice that not only accepts your insurance plan but also has the experience of working with insurance companies can make the entire process much easier and smoother for you. Not to mention, they'll be familiar with how insurance companies operate, meaning they can help you save as much as possible.
Ultimately, having a firm grasp of what deductibles look like can give you an idea of what to expect when you take your child to the dentist's office. With the front desk team's help, you can understand your dental expenses and save money!
About the Author
Dr. J Patrick Bowman, or Dr. Patrick as he prefers to be called by his young patients, is a board-certified pediatric dentist with more than 10 years of experience. At Wash Park Pediatric Dentistry, he is an in-network provider with several insurance companies, including UnitedHealthcare, MetLife, Carington, Guardian, and others. If you have questions about using dental insurance to pay for your child's care, you can contact the front office in Denver by calling 720-647-6310 or reach out to us on our website.