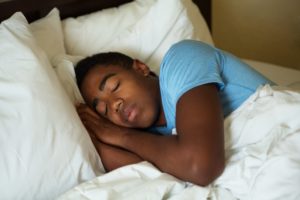 You knew it had to be done. Your teen's wisdom teeth needed to come out to save the rest of their smile, but it still isn't easy watching them go through the extraction process. Your pediatric dentist did a great job keeping your child comfortable during the procedure, but now it's up to you. They encourage lots of sleep for your teen's recovery. As a caring parent, you wish you could take all the pain away so they can get back to normal. But how can you facilitate their sleep? Make sure your child gets these three things.
Plenty of Rest
Soon after the extraction procedure, your child will feel tired, and for good reason! Their body wants to rest and recover, which is why when they aren't sleeping, they need to be taking it easy. For at least two days, they shouldn't run, play sports, or exert themselves too much. Not only will being physically active during this time increase their discomfort and interfere with their sleep, it will also prolong their recovery. Let them sit and lie down most of the time for at least 48 hours.
When they rest or sleep, make sure their head is properly raised. This will prevent blood from rushing to their head and keep their discomfort to a minimum.
Pain Medication as Directed
For the first few days, your teen's mouth will likely feel sore. Most patients can control the pain through over-the-counter relievers like acetaminophen or ibuprofen. Give it to your child as directed, and it should allow them to sleep more peacefully.
As the days pass, their discomfort should lessen. If the pain ever intensifies, or if your child develops a fever, definitely contact the dentist immediately. Your child could be experiencing a complication or infection that needs to be dealt with as quickly as possible.
Cold Compresses
For some wisdom teeth patients, taking pain reliever goes a long way, but the pain still has just enough edge to interfere with their sleep. That's when having a cold compress on their face can help numb the area and control swelling. The compress shouldn't be on their face for more than 30 minutes at a time, but you can reapply it after 20 minutes off. Before your teen goes to bed, place the cold compress against their face for optimal comfort and sleep.
As difficult as it is to see your child struggle, remember it is only for a few days. When you give them these provisions, you can help them get the restorative sleep they need. As a result, they can bounce back from wisdom tooth extraction soon and return to normal activities. Hang in there!
About the Practice
At Wash Park Pediatric Dentistry, Dr. Patrick Bowman and Dr. Samantha Graffeo are happy to treat patients ranging in age from infancy to 18 years old. As a result, our board-certified pediatric dentists offer wisdom tooth extractions for teens whose wisdom teeth have developed or grown in. If you have questions about this procedure and the aftercare, you can schedule an appointment with us by calling our Denver office at 720-647-6310 or visiting our Contact Us page.