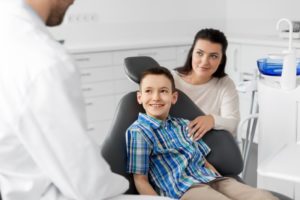 As a caring parent, you hate to see your child having to go through difficult situations. If you could, you would take away their challenges and make everything all better. Unfortunately, some things are just out of your control. For example, if your child needs to have a tooth extracted, you must allow them to go through it, but the good news is that there are ways you can ensure quick and successful healing afterward. Here are the steps you need to take to help your child through their extraction.
Control Bleeding
Before your child exits the dentist's office, they should have a pack of gauze already loaded in their mouth to soak up blood for the following 45 minutes. During this time, a blood clot should form over the site, which is necessary for safe healing. In fact, this clot protects the tissue underneath from bacteria and infection.
If the site is still bleeding after this period of time, fold clean gauze to form a thick pad and dampen it in warm water. Place the pad over the site and have your child gently bite down. Keep the pad there for about 30 minutes.
Give Your Child Liquids until Numbness Wears Off
It usually takes a couple of hours for the effects of the anesthetic to go away. During this time, your child is at risk of biting their tongue or cheek if they try to eat solid foods. As a result, you should give them only liquids until the numb feeling wears off to prevent causing an injury to these soft tissues. Even after their mouth is back to full feeling, they should avoid eating crunchy, chewy, or hard foods for at least a few days.
Remember that blood clot? It needs to stay in position over the site. In order to keep it there, don't allow your child to use a straw when they have liquids because the sucking motion can dislodge the clot, increasing their risk of a painful infection called dry socket.
Keep Discomfort and Swelling to a Minimum
For a few days, the extraction site will be sore, and your child's face may swell. Make sure your child takes over-the-counter pain medication, and apply ice or a cold compress to their face for about 15 minutes at a time. If the swelling and pain persist beyond two or three days or if your child gets a fever, give your pediatric dentist a call.
Be Careful Cleaning Your Child's Mouth
Even though your child's mouth is sensitive, it's important to maintain their usual oral healthcare routine. Help them carefully brush their teeth to keep oral bacteria under control without disturbing the site. After all, the last thing they need is a cavity or infection!
You may not be able to protect your child from hard things, but if you follow this advice, you can help your child recover from their tooth extraction with fewer complications.
About the Author
Dr. J. Patrick Bowman, or Dr. Patrick to his patients, is a board-certified pediatric dentist who has undergone additional training specifically to help patients who are anxious about treatment. In addition to providing anesthetic to numb the area, he can administer sedation to keep young patients calm and content, especially for more invasive procedures like tooth extraction. If you would like to learn more about tooth extractions with Dr. Patrick, you may contact his practice, Wash Park Pediatric Dentistry, in Denver online or by calling 720-647-6310.