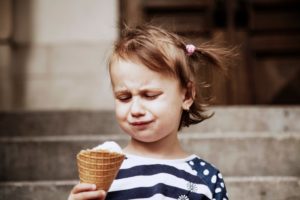 With summer just around the corner, your child is undoubtedly excited to go swimming, spend time outside, and enjoy cool treats. Does anything beat having an ice cream cone on a hot, sunny day?
However, if your child has tooth sensitivity, ice cream may be the last thing they want. In fact, it can be downright uncomfortable. In this situation, you may be wondering what you should do, what could be causing sensitive teeth, and when you should seek a dentist's help. Keep reading to get all this information before summer kicks off so your child can enjoy all that the season has to offer!
What Sensitive Teeth Could Mean
Unfortunately, tooth sensitivity doesn't have just one cause. It could indicate one of the following:
A cavity that is starting to delve into the inner layers of the tooth.
Enamel wear and tear.
Teeth grinding, which weakens teeth.
Aggressive brushing that leads to gum recession.
When your child's teeth feel sensitive, it may not be clear whether the issue is serious or not. At first, it may be best to simply monitor their symptoms and do what you can at home to minimize this response.
Treating Sensitive Teeth at Home
Sometimes, tooth sensitivity can be resolved making simple improvements to your child's regular routine. For instance, you can limit giving them hot, cold, sugary, or acidic foods that could trigger a sensitive response. Every now and then is fine, but too often can lead to negative experiences.
To strengthen your child's tooth enamel, make sure they are using fluoride toothpaste when they brush twice per day. When you take them to see the dentist every six months, you can ask to have fluoride treatment put on their teeth, which adds even more protection.
In addition, try to encourage your child to drink water instead of juice, and make healthier choices in their diet. Many fruits, vegetables, and dairy products have vitamins and minerals that can reinforce tooth enamel, while others help to scrub food debris and plaque off teeth.
When to Visit the Dentist
If you find that your child's tooth sensitivity continues to worsen or makes eating and drinking too uncomfortable, it's time to involve a professional! Your child needs to have an emergency visit to see if a cavity is to blame. Waiting to treat decay will only prolong their discomfort and put their teeth at further risk of infection.
By understanding more about tooth sensitivity, you can help them keep their teeth strong and healthy. This summer, you can help your child create positive, life-long memories by making sure tooth sensitivity doesn't take away the fun.
About the Practice
In Denver, Wash Park Pediatric Dentistry offers emergency services as well as routine checkups and cleanings. Regardless of a young patient's needs, our team goes above and beyond to keep their smiles functional, beautiful, and strong. If your child experiences worsening tooth sensitivity, you can schedule an appointment with Dr. Patrick Bowman or Dr. Samantha Gaffeo online or by calling our office at 720-647-6310.